1

Introduction

Today's business needs present demanding challenges for IT personnel, who require solutions that allow them to respond to these demands with agility and efficiency. For centralized management of distributed application delivery services in modern infrastructures, KEMP 360 Central is the answer. By using an intelligent underlying architecture, KEMP 360 Central helps Infrastructure Administrators effectively deploy and manage L4-7 application delivery services. These services can be deployed by the use of physical appliances and virtual appliances in Software Defined Data Centers (SDDC), as well as private and hybrid cloud environments.

KEMP 360 Central's intuitive management interface and comprehensive REST Application Program Interface (API) seamlessly integrate KEMP's application acceleration services with existing orchestration, automation, and service lifecycle management tools. Its modular framework enables KEMP 360 Central to grow and scale with customers, as their application needs change.
1.1

Document Purpose

The purpose of this document is to provide an overview of the KEMP 360 Central product.
1.2

Intended Audience

This document is intended for anyone interested in finding out more about the KEMP 360 Central product.
2

KEMP 360 Central Overview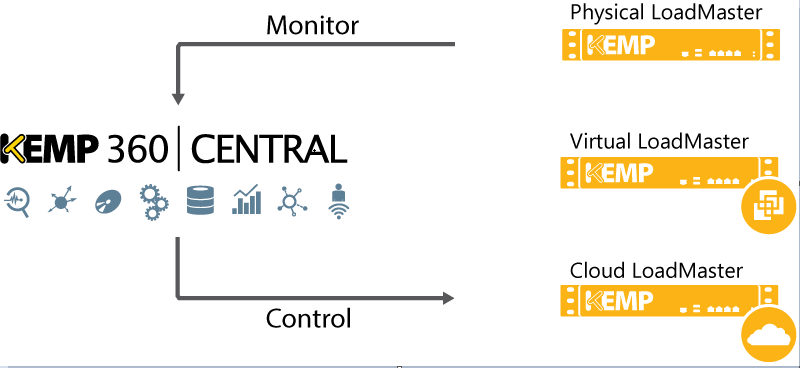 KEMP 360 Central provides centralized visibility of application delivery across all hosting platforms including data center, private cloud, Infrastructure as a Service (IaaS), Platform as a Service (PaaS) and public cloud. From a single point, application owners have access to all their key application performance metrics while infrastructure managers have the visibility and controls to easily monitor and manage the application delivery stack.
Besides providing better visibility, KEMP 360 Central also simplifies routine administration tasks, such as configuration management and software lifecycle management. It provides a central repository for resources such as application templates. Real-time application delivery infrastructure monitoring and status reporting support rapid detection and diagnosis of performance and availability events.
2.1

Cloud Administration

KEMP 360 Central provides centralized management and control of application delivery assets which deliver reduced operational overheads and improved application uptime.

From a single interface, KEMP 360 Central provides application owners and network managers with a unified view of the status and performance of the application delivery infrastructure, enabling rapid detection of issues and reduced management effort.
2.2

Simplified Control

With KEMP 360 Central, Virtual Infrastructure administrators get a single pane of glass to:

Monitor all deployed Application Delivery Control (ADC) instances

Monitor all Virtual Services and their associated Real Servers

Instantiate and retire services

Instantiate, modify and retire Virtual Services

Move and copy Virtual Services from one LoadMaster to another

Instantiate, modify and retire Real Servers

Automatically notify you to add/remove Real Servers based on connection thresholds

Backup and restore configurations

Visualize and trend operational data

Apply Secure Shell (SSH) Access Control

Schedule a reboot, a firmware update and a backup/restore

With KEMP 360 Central, customers can take control of and optimize their application delivery infrastructure by centralizing the intelligence and functionality that matter most.
2.3

KEMP 360 Central Features

KEMP 360 Central provides critical features for managing application delivery and acceleration in modern heterogeneous IT infrastructures. With it, users can easily:

Monitor performance and usage statistics of the networks, sub-networks, LoadMasters (including any Virtual Services, Real Servers and SubVSs) using the Global Dashboard

Add/remove and monitor third party products such as AWS ELB, HAProxy, NGINX and F5 BIG-IP

View a list of available Virtual Services at both network and LoadMaster level

View a list of available Real Servers at both a network and LoadMaster level

View a list of available SubVSs at both network and LoadMaster level

License LoadMasters locally using KEMP 360 Central using the Activation Server functionality

License the LoadMaster using offline, closed network licensing

Allow KEMP 360 Central to access the internet using a HTTP(S) proxy

Reboot a LoadMaster, or reboot multiple LoadMasters simultaneously

Upload application templates to KEMP 360 Central and deploy them to LoadMasters as needed

Upload LoadMaster firmware packages to KEMP 360 Central and update and deploy LoadMaster firmware as needed

Upload and perform offline, closed network firmware updates for KEMP 360 Central

Store backups of LoadMaster settings and restore them to LoadMasters as needed

Automatically configure syslog options in one or multiple LoadMasters

View and filter LoadMaster syslogs

Download diagnostic logs such as audit, debug and system logs

Configure SMTP settings to allow KEMP 360 Central to send emails regarding critical errors

 
References
Related documents are listed below:
KEMP 360 Central, Feature Description
Last Updated Date
This document was last updated on 15 January 2018.