1

Introduction

VMware's vRealize Automation provides cloud automation software that facilitates the delivery and management of infrastructure and accelerating the deployment and release of applications. It allows deployment across multi-vendor hybrid cloud infrastructure and greatly reduces the time required to provision services, reducing costs and improving business agility. End-users are given different service levels, policies and automation processes, as appropriate for their needs.

The KEMP LoadMaster is able to load balance the vRealize Automation IaaS Web Server workload. The LoadMaster offers advanced Layer 4 and Layer 7 server load balancing, SSL Acceleration and a multitude of other advanced Application Delivery and Optimization (ADC) features. The LoadMaster intelligently and efficiently distributes user traffic among the application servers so that users get the best experience possible. 
1.1

Document Purpose

This document provides guidance on how to deploy vRealize Automation with a KEMP LoadMaster. The KEMP Support Team is available to provide solutions for scenarios not explicitly defined.

The KEMP support site can be found at: https://support.kemptechnologies.com.
2

vRealize Automation Template

KEMP has developed a template containing our recommended settings for vRealize Automation. This template can be installed on the LoadMaster and used when creating Virtual Services. Using a template automatically populates the settings in the Virtual Services. This is quicker and easier than manually configuring each Virtual Service. If needed, changes can be made to any of the Virtual Service settings after using the template.

Download released templates from the Templates section on the KEMP documentation page: http://kemptechnologies.com/documentation/.

For more information and steps on how to import and use templates, refer to the Virtual Services and Templates, Feature Description.

For steps on how to manually add and configure each of the Virtual Services, refer to the Configure vRealize Automation Virtual Services section of this document.

 

 

 

 

 
3

Configure vRealize Automation Virtual Services

The environment in which vRealize Automation is deployed determines which of the following setups should be used.
3.1

Enable Subnet Originating Requests Globally

It is best practice to enable the Subnet Originating Requests option globally.

In a one-armed setup (where the Virtual Service and Real Servers are on the same network/subnet) Subnet Originating Requests is usually not needed. However, enabling Subnet Originating Requests should not affect the routing in a one-armed setup.

In a two-armed setup where the Virtual Service is on network/subnet A, for example, and the Real Servers are on network B - Subnet Originating Requests should be enabled on LoadMasters with firmware version 7.1-16 and above.

When Subnet Originating Requests is enabled, the LoadMaster will route traffic so that the Real Server will see traffic arriving from the LoadMaster interface that is in that network/subnet.

When Subnet Originating Requests is enabled globally, it is automatically enabled on all Virtual Services. If the Subnet Originating Requests option is disabled globally, you can choose whether or not to enable Subnet Originating Requests on a per-Virtual Service basis.

To enable Subnet Originating Requests globally, follow the steps below:

In the main menu of the LoadMaster WUI, go to System Configuration > Miscellaneous Options > Network Options.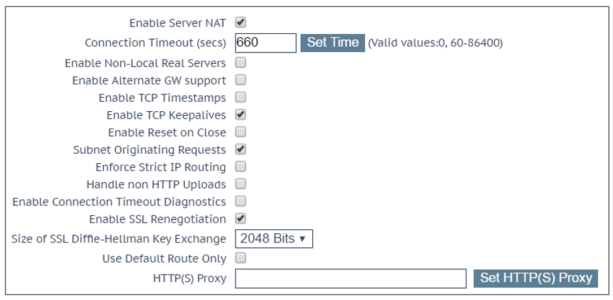 1. Tick the Subnet Originating Requests check box.
3.2

vRealize Automation IaaS Web Virtual Service

The following are the steps involved and the values required to configure the vRealize Automation VRA VC Web Virtual Service:

1. In the main menu of the LoadMaster Web User Interface (WUI), go to Virtual Services > Add New.
2. Enter a valid IP address in the Virtual Address text box.
3. Enter 443 in the Port text box.
4. Enter a recognizable Service Name, for example vRealize Automation IaaS Web.
5. Ensure tcp is selected as the Protocol.
6. Click Add this Virtual Service.
7. Enter the details shown in the following table:
Section

Option

Value

Comment

Standard Options

Transparency

Deselected

 

 

Persistence Mode

Source IP Address

 

 

Timeout

6 Minutes

 

 

Scheduling Method

Least Connection

 

 

Idle Connection Timeout

360

 

SSL Properties

SSL Acceleration

 

 

 

 

Enabled

Reencrypt

 

 

A wildcard certificate allows secure connections to be established with a request URL in the format of *.example.com. With this approach, a single certificate secures traffic for all clients in a multi-tenant environment.

 

Supported Protocols

TLS1.0

TLS1.1

TLS1.2

 

 

Cipher Set

BestPractices

 

Advanced Properties

Content Switching

Disabled

 

 

Add HTTP Headers

 

Legacy Operation (X-ClientSide)

 

Real Servers

Real Server Check Method

HTTPS Protocol

 

 

URL

/wapi/api/statusweb

Click Set URL

 

Checked Port

443

 

 

HTTP Method

GET

 

 

 

 

 
Users should note that clicking the Add HTTP Redirector button, automatically creates a redirect Virtual Service on Port 80.
8. Add the Real Servers:
a) Click the Add New button.
b) Enter the address of the vRealize Automation IaaS Web Server.
c) Enter 443 as the Port.
The Real Server Port should match the Virtual Service Port.
The Forwarding method and Weight values are set by default. An administrator can change these.
d) Click Add this Real Server. Click OK to the pop-up message.
e) Repeat the steps above to add more Real Servers as needed, based on the environment.
Document History
| Date | Change | Reason for Change | Version | Resp. |
| --- | --- | --- | --- | --- |
| Aug 2016 | Initial Draft | First draft of document | 1.0 | DD |
| Jan 2017 | Minor change | Updated Copyright Notices | 2.0 | POC |
| July 2017 | Minor updates | Enhancements made | 3.0 | POC |